October 10, 2008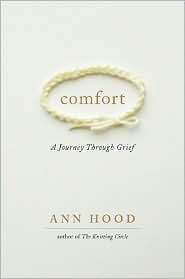 Today, our little family celebrated 24 weeks of gestation with lunch at the Original Pancake House. Sated with eggs and carbohydrates, we then walked next door to the library to pick up some potty-training propaganda, and to see what else we could read for free. After running down my list, I was browsing the 'new' section, and noticed a book about grief looking at me. I picked it up, read the favorable comparison to Joan Didion's masterwork on the back cover, and added it to the pile.
Ann Hood's Comfort is brief, but effective. It's all here: the love, the anger, the aching, the alienation from God, the paranoia at people. The constant longing for closure, and he recognition that it won't ever come. And the realization that closure would we worse, anyway. But most of all, the general, tortured, inevitable agony. Like wounded dogs, we who grieve are certain that everyone is trying to hurt us, no matter how hard they might actually be trying to help.
It was painful to follow her story as she bounced from church to church to church, hoping to sample some presentation of Christian performance that wouldn't piss her off. As I read, I wished she had found some connection with a Christian community that she could have allowed to walk with her, rather than to try to have the leaders of these churches dispense the answers that she thought she wanted. Or, I at least hoped that she wouldn't feel like she needed to choose between 'church' and her friends, and constantly compare one to the other.
But mostly, I ached to think of what it would mean to suddenly lose your 5-year-old daughter. Lord, have mercy.
Posted in: