May 6, 2008
On one of my trips last week, I read 3 books. On the other, I read about 3 pages (but had a lot more fun). Quick notes on 3 good airport/airplane reads: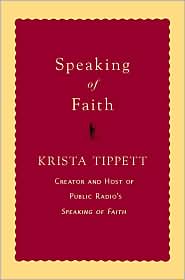 I'm a big fan of Krista Tippett's Speaking of Faith podcast, so I grabbed her new book at the library. It is one of those books that makes you wish there was a more broad term than 'third way', for it suggests– through facets as varied as politics, medicine, quantum physics, music, and literature– that the world is a wonderful place, and that religion can add to the beauty and diversity and welcome found within the world. Tippet is obviously a person who loves books and thinkers and ideas, but who may be too willing to let those voices speak. Her book feels a little like a shill for her radio show, which offers intricate, deep conversation with very thoughtful people. Which is impossible to convey in a broad book like this. The unfortunate result is a book that doesn't move fast enough for a narrative, but too fast for a detailed study. It left me a little wanting: either to hear more from Tippett herself, or more from her subjects.

Jonathan Wilson-Hartgrove is a friend through RT, so when I saw his new book on race recently, I bought it, quick. I've heard absolutely stellar stuff about his wisdom and insight from many quarters, and I wasn't disappointed in that respect– he's a good writer, telling an interesting story of his journey from colorblind child of the New South to a person who is engaging with the latent pain and distrust and discrimination that is still simmering in the wake of the slave trade. Unfortunately, he followed the mind-numbing Christian convention of narrative/Bible content/narrative/Bible content (do publishers make authors do this?), and so the book didn't really get compelling until the last bit, when his comments about race, economics, and the 'penal substitution' theory of the atonement seemed to be suggestive of a very interesting socio-theo-political Theory of Everything. I'd like to hear more of that brilliant stuff.

And why didn't someone tell me about Wendell Berry sooner? I mean, I've been hearing about him for a few years now, but it took a couple of friends holding my feet to the fire a few months back to compel me to finally find a collection of his essays at my favorite source for used books. Berry is a magisterial writer, broad and thoughtful and painstakingly precise. In this collection of essays from the early 90s, some of them struck me as only 'good' (ie, they seem true, and make me think), while others were 'oh, Good!' (ie, they grip my gut and raise my heart rate). One in particular, "Peaceableness Toward Enemies," made me want to stand up and shout out as he hammered his themes home, and the final one (which shares the title of the book) left me speechless.
His ideas about the weakness of justice, and the strength of love (and the money quote from Lao-Tzu: "losing kindness, they turn to justness") helped me think about the mainstream Christian fixation on the courtroom metaphors of Paul. Why do they seem to overshadow his less legal language, and why do they seem to only grasp at the power of Jesus' invitation to love?
Too, I was dumbstruck by his contention that our freedom is illusory, as we are in fact captives of so many corporations. Which seemed prescient, too, as I finally finished his book on the last train home, and picked up the paper laying on the seat next to me: The Post's feature on how increased transnational trade in agriculture means that farmers everywhere go hungry as multinational corporations farm and fish the best resources all around the world.
Posted in: