December 30, 2007
With a couple of Amazon gift certificates burning a hole in my pocket, and a rediscovery of our local library, and with an unfortunate interruption in our (free) cable TV, I've been doing a bit of reading. For some reason, I do so in the same way that iTunes downloads my precious podcasts: simultaneously. So I read and read, and then one day, I finish several books before looking around the room to search for more, my eyes still darting back and forth.

I met photographer Jim Lo Scalzo when he came by our church to make some photos of our Sunday gathering. He was friendly, kind, interested, and obviously expert. So, when he sent a follow-up email that had a link to his website/book, I bit, quick. When I opened the box, I followed my normal routine– draw a breath to capture the fresh scent, pore over the cover, then thumb through it– and thought, "oh, this is why I should shop at the Barnes and Noble up the street!", for this book about photography contains not one photo. Instead, it is an imageless 300 pages of prose (okay, there are some great thumbnail photos on the cover, but still). But I read it, and really liked it: a fast moving telling of a life lived all over the world, but tied to a wife and hoped-for family back in DC. Jim has some serious chops with a camera– more than my eye can even appreciate. But he also has a wonderful way with words.

Phyllis Tickle wrote The Graces We Remember: Sacred Days of Ordinary Time. Ho-ho-leee cow. Wow. It made me cry in public. So good.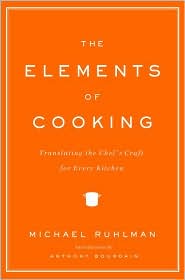 I found Michael Ruhlman's Elements of Cooking on the end cap of the library– a real coup, since I was longing to read this new book. It's not a cookbook, exactly– it's better. It is a blustery, detailed explication of the grammar and syntax of cooking: stocks, heat, tools, salt, sauce, techniques, eggs, and a huge, detailed glossary. I'm still working through this one, and am not in any hurry to finish.

Bill McKibben is a favorite of mine, so I've had Hope, Human and Wild on the shelf for some time. But it took making a new friend who is doing reforestation, community development, and resource management in his home village in Kenya to make me say, "hey, I have a book you should really read!," and get me to actually pick it up and read it myself. Though notorious for his dour, even negative outlook, McKibben's book lives up to the title. As usual, my man Bill is a force of nature: ever, always, kindly nudging us toward greater happiness by simpler living (even if he himself admits his own reluctance to move in this direction). My brother-in-law had lunch with this hero of mine, and I'm still seething with jealousy.
Posted in: